Keurig is the name we unanimously select when someone asks for consistent, quality-rich coffee — for every single day. It has left such an awesome impression on us, so that we don't even overthink about it. While we love Keurig for consistency and everlasting taste, most people love it for the simplicity of coffee-making. It is like you are having the best coffee, every day, just a press away.
Yet, we know the hardships of choosing the best Keurig Coffee Machine for your home or office. Since you'd have different requirements and preferences, the selection should be tough. To keep things simpler, though, we have done enough research and brought you a list of the best Keurig coffee makers in the market. It does not matter which one you pick; you can have the superb coffee from the time to come.
Best Keurig Coffee Makers – Our Top Picks 2016!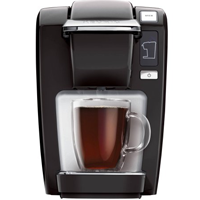 Keurig K145 OfficePRO
Dimensions (inch)
:
16.7 x 15 x 12.6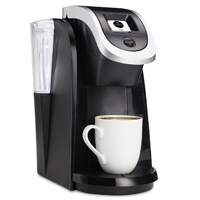 Keurig K55 Series
Dimensions (inch)
:
9.8 x 13.3 x 13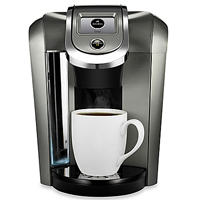 Keurig 2.0 K575 Series
Dimensions (inch)
:
16.2 x 11 x 16.1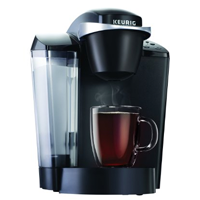 Keurig 2.0 Series K250
Dimensions (inch)
:
10.4 x 13.6 x 13.4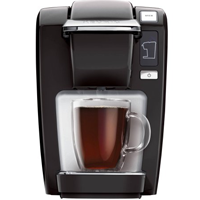 Keurig K15 Series
Dimensions (inch)
:
10.7 x 6.9 x 10.8
If you are still not convinced enough about which is the perfect keurig coffee maker for you, read the following reviews of individual models and choose the perfect krurig coffee maker for home/commercial use.
It's one of the most compact Keurig coffee makers you can get from the market. Loved for its simple set-up, functioning and versatility, Keurig K10 Mini Plus Brewing System can brew you the perfect coffee in just two minutes.
You can brew coffee in three different sizes — 6oz, 8oz and 10oz — depending on how much coffee you like. It needs to be noted that you are getting a variety pack of K-Cups as well, which can be used for trying out a lot of different beverages.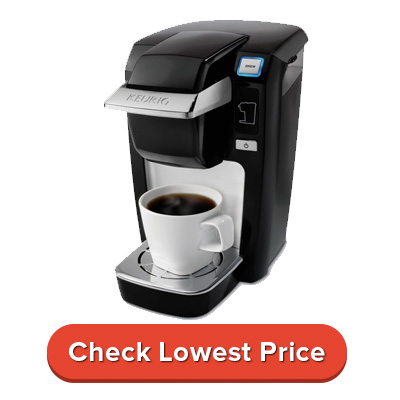 We used standard mugs and some short travel mugs with Keurig K10 Mini Plus Brewing System and it worked well. For the latter, we had to remove the drip tray, though. Thanks to the water-reservoir capacity of 12oz, you won't have to refill the tank every time, if you are brewing 4oz size.
During our review, we had used K-Cups as well as other cups with this brewing system and the taste was lot more consistent than we expected. It's a fact that Keurig K10 Mini Plus Brewing System does not have many fancy features like programming or anything.
Who's It for: At the end of the day, when you like a perfect cup of single-serve coffee every day — that too in just two minutes' time —, Keurig K10 Mini Plus Brewing System is the best Keurig Coffee Maker for you. Judging by the features, the pricing is reasonable.
In case if you are wondering, Keurig K55 Single Serve Programmable K-Cup Pod Coffee Maker is the widely-used and praised Keurig machine in the market. It's available for a lower price, but that does not compromise the features offered.
As far as we tried, having this coffee maker is bringing you some extra features as well. For instance, there is an Auto-Off feature that turns of the coffee maker if it has been idle for two minutes. We also loved that simple set of control dashboard, which is easier to use.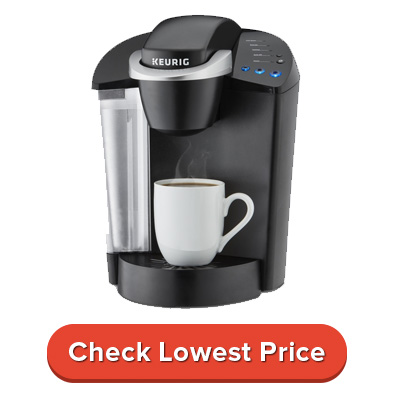 Here too, you can choose from the three possible brew sizes — of 6oz, 8oz and 10oz. Its water reservoir has a maximum capacity of 48oz, making it enough for a few more cups of coffee. Because it works fine with the reusable fillers, we were able to get our own favourite coffees as well, apart from K-Cups.
With this budget-friendly package, you are getting 4 K-Cup Pods and 2 Water Filters. These are enough for brewing the perfect coffee, every single day. And, if you want to get some hot water for your oatmeal, you can select the brew size without putting the Pod inside. This was a good feature we loved.
Who's it for: When you need higher-capacity water reservoir and hassle-free coffee brewing, this is perfect. No matter the pod you are using, you can have the desired size of coffee in around a minute, which is pretty fast.
It's coming from the OfficePRO series of Keurig coffee machines, and is perfect when you need coffee makers for your office needs. When compared to the home-based alternatives, you will have to pay a bit more, but we found the extra price to be justifiable.
Faster brewing time is one of the coolest features we loved in the product, because we got the coffee ready in less than one minute. There was no difference regardless our choice from the 6oz, 8oz and 10oz trio. Being a product for office needs, you can spot a huge water reservoir of 48oz as well.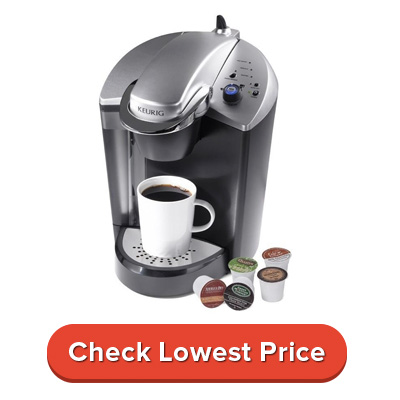 When compared to the other recommendations, Keurig B145 OfficePRO Brewing System offers better set of controls for brewing coffee. For instance, you can turn the knob and choose the brewing size. There are its dedicated buttons for descaling and auto-off feature, pretty easy to use in the end.
It needs to be noted that you are getting a trial pack of Bonus K-Cup Portion when you purchase this brewer. Other noticeable features include the drainable internal hot water tank, Auto-Off, and the perfect design. In fact, it's one of the best-designed Keurig coffee maker we have ever come across.
Who's It for: In light of our experience, we think Keurig B145 OfficePRO Brewing System is good for office as well as home needs, especially if you're a heavy coffee consumer. Moreover, it has an elegant finish and bit more options for versatile coffee-making needs.
If you are looking for the best coffee maker for your office, Keurig K155 K-Cup Commercial Brewing System is our recommendation. It's a bit more expensive, but the quality and speed are something amazing. In the course of our review, we were impressed by the performance and consistency of coffee taste.
We were able to brew different types and sizes of coffee in less than a minute, and all we needed was a push on the Brew button. It's powered by a touch-screen interface, which is good for better control. You can know the various aspects of brewing tasks by looking at the screen.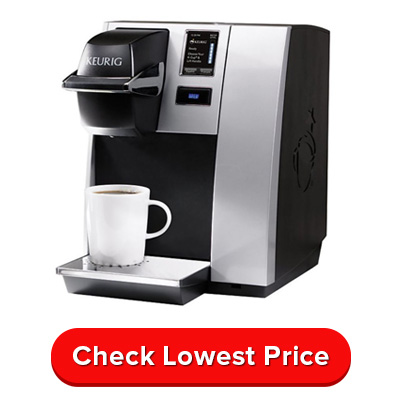 Coming to the brewing experience, you can choose from four brew sizes — 4oz, 6oz, 8oz and 10oz. This set is quite useful in an office environment, where different people prefer different sizes. You can also use travel mugs for enhanced size, by removing the drip tray.
The best part of all these, Keurig K155 K-Cup Commercial Brewing System has a huge capacity of 90oz. We'd found this optimal for a commercial coffee maker, because refilling isn't required all the time. It weighs 18lbs and has bigger dimensions if compared to other products. Plus, it's very expensive.
Who's it for: Summing up all these, Keurig K155 K-Cup Commercial Brewing System is perfect for small and big offices. The 90oz capacity is truly an addition, not to mention its best-in-class performance & brew time.
This is another top-selling coffee maker from Keurig, which you can buy with trust. It's reasonably priced and offers many advanced features in comparison. The unique part is that you can purchase this Keurig K475 Programmable K- Cup Pod Coffee Maker in Black, Sandy Pearl or Vintage Red finishes.
Customization is the best feature we have found in this coffee maker, for sure. You can use K-Cups, K-Mugs or K-Carafe for brewing the different sizes of coffee. For instance, if you are using K-Cup Pod, you can get it in 4oz, 6oz, 8oz, 10oz and 12oz sizes. In K-Carafe, it goes to 22oz, 26oz and 30oz.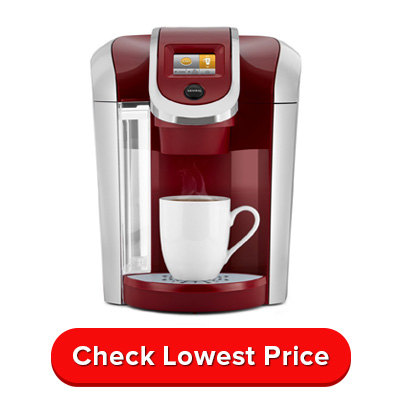 We really think this is the best Keurig Coffee Maker for those who are addicted to coffee. And, if you've the habit of trying out new flavours, Temperature Control will be an awesome feature. You can choose from its 5 pre-set temperature settings, to have the perfect coffee ahead.
Using Keurig K475 Programmable K- Cup Pod Coffee Maker is an easy task, thanks to the interactive touch-screen control section. Additional options are Energy Saver mode, Auto Brew, Digital Clock etc. On top of all these, you have a water reservoir of 70oz, which is pretty good to go.
Who Is It for: We would recommend Keurig K475 Programmable K- Cup Pod Coffee Maker for coffee-addicts as well as small offices. Its customizability and performance are backed by the perfect design and easiness of use.
Another perfect solution for homes and small offices, Keurig B140 Small Office Coffeemaker has a low price tag, which is impressive. The design is well-suited for office rooms or conference rooms, and has the capacity to offer perfect coffee for up to 15 people without any hassle.
Of course, it has the basic options to offer. For example, you can choose the perfect brew size from the three available options, such as 6oz, 8oz and 10oz. All of them get ready in less than a minute, so that you do not have to spend minutes in front of the machine. This is impressive when you're in an office scenario.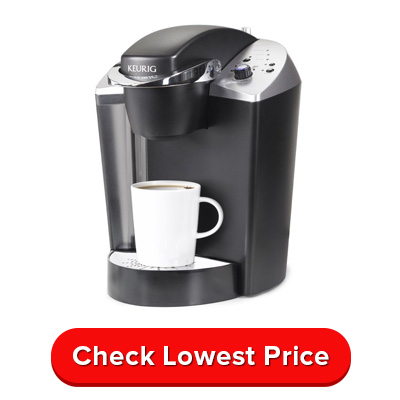 Talking about the controls, the panel looks a bit more professionals. At the end of the day, you have option for draining the brewer, for enhanced cleaning. Also, the knob-based brew size selection is a suitable design for office environment.
Last but not least, you can use the favourite K-Cup Pods with Keurig B140 Small Office Coffeemaker. In case if someone in your office likes ground coffee, it can be done by purchasing a compatible pod like Ekobrew. In addition to all these, this Keurig coffee maker is competitively priced.
Who Is It for: Keurig B140 Small Office Coffeemaker will be a perfect companion for small offices. Or, if you need to save some money on this case, you can get the same for your home as well. Either scenarios, you'll have the benefits of performance and Keurig simplicity.
With another budget-friendly yet advanced machine, we are ending the best Keurig coffee maker selection of products. You won't have trouble in using Keurig K250 Single Serve K-Cup Pod Coffee Maker at your home or office, no matter what your coffee-drinking habits are.
You can have all the basic options you would expect, such as the removable water reservoir, drip tray and a variety of brew sizes. Depending on what you are using — K Cup, K-Mug or a K-Carafe —, you can brew 4oz to 30oz of coffee. This is backed by the 40oz water reservoir, which is comparatively bigger.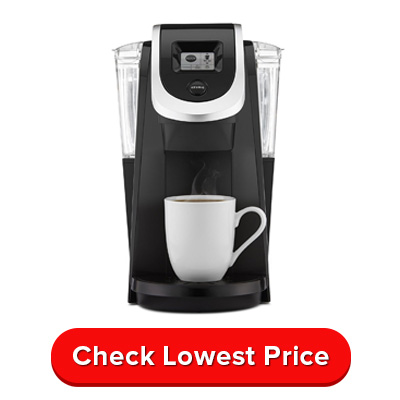 You can use all the supported Keurig accessories with this advanced coffee maker, but its control options are just awesome. For instance, there is the touch-screen LCD Display for brewing the right coffee. You can choose the brew size and strength as well. In a single tap, you can have stronger coffee, for that matter.
Using and maintaining Keurig K250 Single Serve K-Cup Pod Coffee Maker is an easy task, thanks to removable components and programmable options. Last but not least, the product is available in a sleek design, though you can choose desired finishes.
Who Is It for: We would recommend Keurig K250 Single Serve K-Cup Pod Coffee Maker for both homes and office environments. Advanced options are awesome if you are an addicted coffee-drinker, so that you can have customized tastes and flavours.
So, these are the best Keurig coffee maker machines you can find in the current market. Some of the selections are ultra-affordable while others offer advanced features. You should know about your coffee-drinking habits before you make a pick. In addition to these, you should know about Keurig and some basic knowledge for using and maintenance.
Introduction to Keurig Coffee Makers
Although Keurig has become synonymous with easy-to-use, one-click-brew coffee machine, it's actually one popular manufacturer of single-serve coffee machines. The coffee makers are manufactured by Keurig Green Mountain, a company from the United States. From 1998, Keurig has been considered one of the trusted as well as popular names in the industry of coffee making machines.
As a brewing system, Keurig is available for home and commercial needs. Above, we have chosen from the huge collection of Keurig and have recommended the best Keurig machines for home as well as office needs. It's a matter of fact that Keurig is offering more and more features in the newer products. For instance, when you are ready to pay more, you can have the benefits of interactive touch-screen and customizable control options for getting the best flavour of coffee.
The working process of Keurig coffee makers are pretty unique. Let's not talk about technicalities here. Once you have purchased and set up the Keurig machine, you will have to insert a K-Cup Pod in the correct place. Alternatively, you can use some third-party Pods like Ekobrew as well. Then, in a single press, hot water will be flowed through the K-Cup pod, giving you the perfect blend of coffee in the provided mug or cup.
Here too, you have options for selection. For instance, you can pick from K-Cup, K-Mug and K-Carafe, as per the requirement of the coffee size. You can also adjust the brew size and adjust temperature in some special Keurig models. These are all good when you need the perfect coffee, every single day. Even for your home-based use, you can have advanced options like Auto-Off and Touch-Screen-based Display.
This is the basic introduction you should have about Keurig coffee makers available in the market. Now, we will move onto the noticeable advantages of using a Keurig.
Advantages of Using a Keurig Coffee Maker
Let's take a quick look on the noticeable advantages of shifting onto Keurig Coffee Makers from others.
Simplicity is perhaps the most important advantage of using a Keurig coffee machine. You don't need to be an expert to make coffee using these machines. As we said in the introduction, you will have to place the K-Cup in the position, close the lid and press the Brew button. In a minute or so, you'll get the best coffee poured into the provided cup or mug. Depending on personal preferences, you have options to choose brew size, intensity and the choice of coffee. As far as newbies are concerned, the perfect coffee is a press of button away, which is a great deal for most people. That having said, there are some customizable devices as well.
When compared to other coffee makers, Keurig Coffee Makers have lower brewing time. It does not matter which device you have chosen from the market; at the end of the day, you can have favourite coffee in a time of 2 minutes, that too at maximum. If there is sufficient amount of water in reservoir, this system can provide as many coffees as you need in the shortest period. This is one of the reasons why offices and homes are using Keurig machines.
There is no limit to the variety of beverages you can make using a Keurig coffee maker. All you have to do is to choose the corresponding K-Cup Pods, which are easily available. There are more than 200 different flavours of K-Cups you can get, depending on your tastes. And the price of these K-Cups vary depending on the taste and availability. In addition, if you like your own coffee, you can have a My K-Cup or third-party pods like Ekobrew. So, Keurig machines are a great way to have popular or your own flavours of coffee, in the least possible time.
Another advantage of Keurig is the easier maintenance and usage. If you take a look at the products we have mentioned above, most of them have removable parts. For instance, you can easily remove the water reservoir when it's time to refill. Similarly, the Drip Tray can even be removed for extending space for cup. This way, you can have a better cleaning and management of your coffee things in a Keurig.
In addition to these, Keurig is offering a wide variety of products, which is really great. Including compact Keurig Coffee Machines to the fully fledged ones, you have a lot of products to choose from. This is good because you will find the best coffee brewer for your purpose. While choosing, however, you will have to consider aspects like the reservoir size, available brew sizes, advanced options etc.
Some of Keurig coffee machines come with additional features like the interactive touch-screen control. Here, you can get things moving in a single tap on the screen. It seems that the same devices are offering better temperature control, mode selection, even while keeping the taste consistent.
Last but not least, Keurig machines don't show taste differences when compared to other makers. It does not matter which is the current season or other circumstances are; you can have the perfect coffee from Keurig, every single day.
These are the major reasons why it makes sense to shift from other coffee makers to Keurig coffee maker. If you love drinking coffee without much effort for making it, these machines are just awesome for sure. It needs to be noted, however, that there are some disadvantages too, if you look from environment-friendly point of view.
In case if you do not know, K-Cups are not reusable. It means you can make a single coffee with a K-Cup and will have to throw it away. The problem can be solved if you can get a reusable My K-Cup or something like an Ekobrew Pod. Of course, you will have to store the favourite flavours with you and do the refilling by yourself.
At the end of the day, it's all about your own convenience.
Factors to Consider for Choosing the Best Keurig Coffee Maker
Choosing the best Keurig coffee maker is no big deal when you follow the recommendations we have given above. That having said, there may be some personal preferences as well. If you are one of them, you should keep the following things in mind when you are in the online store to purchase the best Keurig coffee maker. In another case, if you are planning to get one of the recommended products too, you can keep them in your mind.
Size
Size is the most important factor to be noted while choosing the best Keurig coffee maker for you. First, you should see how much space it consumes from your countertop or your table. This becomes more important if you are living in a small home or an apartment. Moreover, even in our curated list, there are various Keurig machines with different sizes. So, the selection should be based on your sole needs.
Water Reservoir Capacity
We already know that Keurig coffee makers are single-serve ones. It means you can brew coffee for single people and they are not suitable if you want to make tea for a crowd. Even then, there are people who drink multiple coffees a day and it does not feel well to refill the water reservoir every single time you've brewed a cup of coffee. In that case, we recommend purchasing a Keurig coffee maker with higher storage capacity. Also, it's good to have a removable water reservoir, which is useful not only in the case of cleaning but also when you want to just refill a huge amount. At the best, if you are ready to spend a bit more, get a capacity of 40oz, which is satisfactory.
Auto-Off
This is an awesome feature as far as your safety is concerned. The concept here is so simple. If the machine has been in idle state for a particular time, it will be turned off. Depending on the coffee maker you want to purchase, there may be 60, 120 or 180 minutes of Auto Off period. This is one of the essential features you can ensure in the device. You are not only saving a lot of energy but also protecting yourself and kids from a bunch of electrical hazards.
Programming
Programming is an additional feature, for sure, but you can get the job done without much effort. The main objective of having this feature is that you don't have to press the brew button in the morning when you'd like to have that bed coffee or something. Instead, you can program the Keurig machine to turn on and do the brewing all by itself — at a particular time. The result is that you can have an impressive cup of coffee when you wake up from your bed. There can also be some additional programming features, but they seem to be a bit more expensive in practice.
Brewing Time
As we said earlier, quick brewing is one of the major advantages of having a Keurig coffee maker. Let's keep that aside and face another fact: different Keurig machines may have different brewing time, depending on the use of technology, main purpose and the price you are ready to pay. If we take the case of products that are mentioned above, most products have a brewing time of less than 1 minute or 2 minutes. It's so good, because you don't have to wait in front of the machine to get the perfect coffee. We would recommend a coffee maker with the quickest brewing period if you live a busy life.
Coffees you can Brew
This is one of the major considerations while picking the right Keurig machine. You may not always be able to use the Keurig K-Cups for brewing. And, there are many better alternatives if you want bigger capacity as well as the option to use ground coffee. For instance, you can consider the Solofil cup or Ekobrew. Before you make the purchase, make sure that the coffee maker has support for third-party cups. If that's not the case, you might end up spending a lot in buying K-Cup Pods.
Miscellaneous
Apart from these, there are some miscellaneous features regarding ease of use and cleaning. Some Keurig machines may have dedicated options for cleaning and removable parts. This is a great advantage. Similarly, you can look for options for accessory support, water filtering and the types of Cups and Mugs you can use. To get things better, you should purchase a Keurig coffee maker with removable drip tray. This way, you can simply remove the drip tray and place some extra-long cups in them. Last but not least, you should also have an eye on the price of the coffee maker before checking out.
With these factors in mind, you would have no trouble in making the personalized choice of Keurig machine and coffee.
Maintenance in your Keurig Coffee Maker
Consistent cleaning is one of the requirements for the longevity for your Keurig coffee maker. Unlike it's with other coffee maker machines, cleaning your Keurig will be an easy thing.
Things are easier if your Keurig machine comes with a descaling option. You can simply press button and the descaling would be done in a few seconds or minutes.
Otherwise, you have to remove the Water Reservoir for better access. You can take it to the faucet and clean it thoroughly; after cleaning, put it back.
For advanced cleaning, there is an option. First you have to make a solution of Vinegar and pour it to the water reservoir. Now, press the brew button without placing the K-Cup. This would do a thorough rinse of the machine parts, making them clean.
After this, you will have to do another rinse with pure water, to remove the remnants of the earlier descaling.
These tips and steps are pretty easy, when compared to the other coffee machines. Thanks to the removable design of Keurig components, anyone can deal with the cleaning stuff without any stress. We hope this will help you a lot in the long run.
Wrapping Up
There is one thing about our list of the best Keurig coffee makers. It does not matter which one you select — you will have the perfect coffee, every day, without much taste changes. That having said, we really do recommend paying attention to minute details too. For instance, personally speaking, I always like bold type of coffee, which can be set up in only some of the included Keurig machines. In such a situation, the proper selection is the pivotal key here.